Spirit Filled Small Groups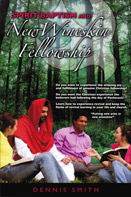 If you have read Spirit Baptism & New Wineskin Fellowship or 40 days devotional or the 10 days devotionals designed for small groups or are participating in a Spirit filled Small group you know what blessings God has in store for believers who seek Him in fellowship together. If you are in such a group, we would love to hear about it. If you would like to be in such a group, let us know that too and we'll try to make connections where possible.
Contact us here.
Phone Conference Call Fellowship Groups
Many individuals around the country and world are participating in daily and weekly phone study in Spirit small groups and many are using the conference call method. The 40 Days devotionals and 10 Days devotional books by Pastor Smith are being studied by many using this method of fellowship. If you are participating in a conference call fellowship group let us know and we'll list your contact information so others can participate.
Thanks,
Pastor Dennis
Phone Fellowship/Prayer Groups:
Daily: 4:45 - 5:30 AM EST, 605-475-6700; access code: 2315782#
Daily: Metro NY Men's Prayer Ministry (all genders welcome) 5:00 - 6:30 AM EST, 218-486-1622; Access Code: 13514#
Daily: 6:00 - 7:07 AM EST, Northern New England Prayer Ministries - Everyone welcome, 712-451-6100 Access Code 3687072#
Weekly: Thursday night Righteousness by Faith Study and Prayer, 7:00 - 8:00 PM EST, 712-451-6100 Access Code 3687072#
Weekly: Wednesday 6:30 - 7:30 AM EST, Prayer & Devotional with Atlantic Union Leaders - Everyone welcome, 712-451-6100 Access Code 3687072#
Gulf States Conference Virtual Worship - 5:30 AM CST, 7 days a week 712-432-0900 Access Code 407096# -.  7:00 PM on selected days, email This e-mail address is being protected from spambots. You need JavaScript enabled to view it for more information or current topics.